Authorized Distributor to SUNGSHIN RST
SUNGSHIN RST is an expert PASSENGER TRAIN SETS, DIESEL LOCOMOTIVES, and other special purposed vehicle acting as car builder to many railway operators.

SUNGSHIN RST will concentrate all of our capacity on the development of system integration technology that yields high quality to satisfy international customers' demands and achieve global competitiveness at the center of revolution at the age of renaissance railway.

SUNGSHIN RST promise to be the company that devotes ourselves in establishing strategy of developing our own technologies and updated products met with worldwide needs and in satisfying the customer and creating practical value.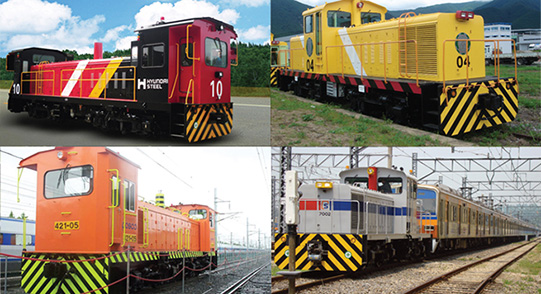 บริษัท โกลด์ แอนด์ โกรว แมชชีนเนอรี่ (ไทยแลนด์) จำกัด เป็นตัวแทนจำหน่ายรถไฟประเภทต่างๆ และมีบริการให้คำปรึกษาเกี่ยวกับคุณลักษณะต่างๆ ของรถไฟ รถจักร และแคร่รถขนส่งสินค้าตามความต้องการใช้งานของผู้ใช้ รถไฟโดยสาร รถไฟแบบนำเที่ยว รถไฟแบบมีภัตตาคารในตัว รถไฟฟ้าD(E)MU รถไฟฟ้าแบบพิเศษ ตกแต่งสวยงามหรูหรา ตามความต้องการของผู้ซื้อ มีบริการหลังการขายเกี่ยวกับอุปกรณื ชิ้นส่วนอะไหล่ การซ่อมแซมระบบต่างๆ ของรถที่บริษัทฯ ได้จำหน่ายให้ผู้ใช้โดยตรง